2 septembre 2013
1
02
/

09
/

septembre
/

2013
17:13
Just back from a fabulous month in South-East Asia, here is the first extract from the newest sketchbook... and I have to say this is the one I have been most dedicated about. I think I was just so amazed by these various discoveries, from dynamic glittery Bangkok to wild Laos that I could not stop drawing !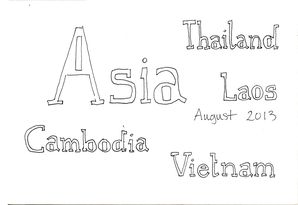 First of all the wonders of Thailand at the Grand Palace of Bangkok.

With its marvellous museum of Queen Sikirit: her traditional wardrobe as well as her western one, including some incredible Balmain pieces.


Then Laos, beginning with Luang Prabang.

And an unforgettable experience: crossing the luxurious forrest canopy on ziplines more than 200m from the ground and sleeping in a treehouse.

Visiting a cave filled with Buddhas... its name suggests a thousand but it was way more !
And finally a ride and a bath on an elephant's back in the Mekong river... before a visit to a protected camp of black bears and a shower in the beautiful local waterfall...

Then, Laos' capital city, Vientiane.