16 octobre 2010
6
16
/

10
/

octobre
/

2010
15:05
Evolving in the fashion world for almost a decade now has obviously extrapolated my love for clothes. Designing is my passion but so is dressing up or even getting dressed any day. Therefore I have chosen the exciting Paris Fashion Week to compile my outfits.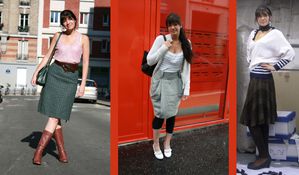 look 1: top: my design; skirt: grandmother's; belt and bag: mother's; boots: Clarks
look 2: top: Comptoir des cotonniers; skirt:my design; cardigan: Ralph Lauren; leggings: bought in Sydney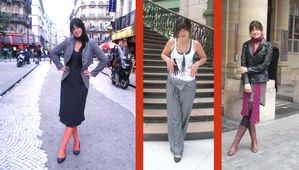 look 4: dress: Moloko; jacket: Pierre Cardin; scarf: vintage
look 5: top and necklace: my design; trousers: Camden market
look 6: dress: Marc Jacobs; scarf: Ingrid Didika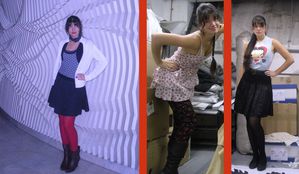 look 7: skirt: Ralph Lauren; tights: H&M, knitted top: mother's
look 8: dress: Jennyfer; tights: H&M; boots: Clarks
look 9: top Betty Boop: vintage; skirt and belt: mother's
look 10: dress: my design ; tights: H&M; shoes: bought in London
look 11: top: Jean-Charles de Castelbajac; necklace: vintage; shorts: H&M; jacket: Tati
look 12: dress: Marc Jacobs; shoes: vintage from New-York
It can become quite a challenge to find the outfit which will be appropriated to the occasion, especially when you ignore where the day and night will take you. Concerning those looks, respectively: going to work, see an opera, tidy up the stocks, have a drink, pick up a friend at the train station, go to the theatre, get a "vous êtes très élégante" from the boss, go to the Bless show, bake cakes, show off my work, be backstage and go to the Castelbajac afterparty. I particularly enjoy mixing eras, from my grandmother's wardrobe to last week's highstreet collections, with of course some designer pieces.