16 janvier 2012
1
16
/

01
/

janvier
/

2012
19:40
I had the privilege to be part of the launch of the Chill Art Food and thus be the first fashion designer to be exhibited in this remarkable space. The photographs of my St Martins graduation collection taken by the very talented Marie Colibri have inhabited this place for over a month, and the exhibition is now extended until January 21st !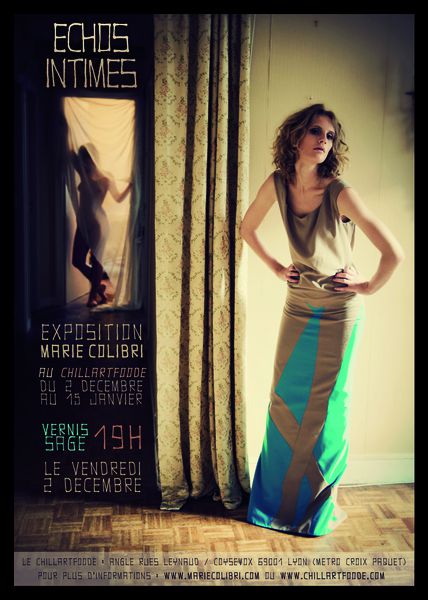 Here is the Press release:
Marie Colibri, photographe autodidacte, vit et travaille à Lyon. Dans cette série de photographies, "Echos Intimes", elle crée une mise en abîme du réel dans le rêve ou peut-être le contraire.
Une quête d'identité se livre à travers des regards flous et errants, dans des espaces à la fois fermés et ouverts, dans ces corps réels et fictifs... une recherche visuelle s'impose, notre oeil entre dans un corps à corps avec l'image dans un parcours énigmatique.
Ces photos sont le fruit d'une collaboration avec la jeune créatrice de mode Moïra Cristescu qui a réalisé l'ensemble des vêtements: une collection très féminine, toute en courbes, basée sur des trompe-l'oeil imitant certaines positions du corps.
Text by Laetitia
I hope my translation will convey the poetry and subtlety of this text:
"Marie Colibri, self-made photographer, lives and works in Lyon, France. In this series of photographs named "Echos Intimes" (or intimate echos), she creates a fall into infinity of the real in the dream or maybe the other way around.
A quest for identity takes place through blurry and wandering looks, in spaces simultaneously opened and closed, in these bodies, both real and deceptive... a visual research intrudes into our world, our eye enters a hand-to-hand combat with the image in an enigmatic journey.
These pictures are the result of a collaboration with the young fashion designer Moïra Cristescu who has designed and conceived all the garments: a very feminine collection, all in curves, based on "trompe-l'oeil" imitating chosen body positions."